Since establishment, we have gained experience in various technologies including thermal control technology,
wind control technology, air pollution preventative technology, machinery designing technology, engineering skills.
Consolidating these technologies, we will present proposals for the most suitable system from a single unit to
a plant component to meet our customers requirements.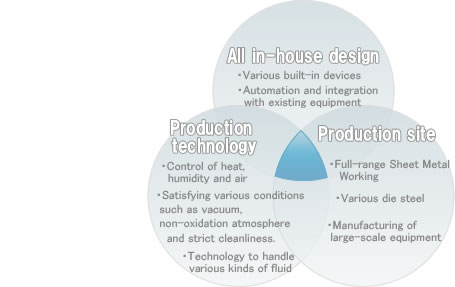 ・We accommodate various heat sources including electricity, steam, heat-transfer oil, burner and hot water.
・We can meet various conditions such as vacuum, non-oxidation atmosphere (nitrogen purging) and strict cleanliness.
・We accommodate your needs for organic gas (volatile organic compounds, VOC) treatment.

・We have ethylene oxide gas (EOG) treatment technology.
・We can cope with various kinds of fluid (gas, liquid and powder).
・We produce large-scale equipment including conveyor lines.
・We create equipment with various built-in devices.
・Our expertise includes automation and mechanical and electrical integration with existing equipment.

・Using various die steel (angle, channel and H-shape), we produce stages, frames and large-scale facility.
・Our product includes large-scale equipment including conveyor lines.
・We are fully equipped with devices to cut, bend and weld sheet steel for in-house processing including a laser cutter,
a shearing machine and a bender,